The enduring appeal of Gstaad only gets sweeter with time, as experienced by Chantal Borciani.
The Montreux Oberland Bernois railway first carved its way through mountain passes to snow-capped Gstaad in 1904. Today, the scenic journey from Montreux to the exclusive ski village is just as picture-perfect, but older carriages have been replaced with glass-roofed vestibules that glide up past the Heidi-inspired scenery, snow-covered villages and alongside emerald glacial lakes.

Gstaad has long since been the genteel sweetheart of the ski set with world leaders, artists and Hollywood starlets flocking to its snowy havens and picturesque slopes for decades. Even by Swiss standards, Gstaad is unthinkably pretty – snow frames its amber-hued chalets as if piped by hand and horse-drawn carriages frequently trundle into the village. Its pristine boulevards are flanked with Prada and Louis Vuitton stores (an indication of the bank balances of most of its visitors), but adventure is also never far and there's a wealth of sports and activities for all visitors to enjoy.

Swiss and swish
We are picked up from the small train station in a 1961 Bentley, which our driver explains used to belong to Roger Moore. While still reeling from this revelation, the car wafts up the drive of our hotel. Le Grand Bellevue must only be a three-minute walk from the station platform, but the hotel likes to set a tone of luxury right from the outset. Bond eat your heart out! On the face of things, Le Grand Bellevue looks classically Swiss and chic, complete with snow-dusted turrets and grand foyer, but on the inside the owners (who met and married in Gstaad) have used a rich colour palette and contemporary design to renovate and refresh.

The lounge has a modern glass-fronted fire, plush sofas and a 17-metre long Chesterfield, while the bar is awash with jewel tones and two funky bird cage seats are suspended from the ceiling – surely one of the best spots in town for sipping cocktails.

Rooms and suites enjoy magical views of the town and slopes and are located in the main house – some split level, others occupying parts of the tower – or in the chalet wing, where rustic wooden beams give a lovely Alpine feel. The tactile furnishings and fabrics are swoon-worthy throughout, but if we had to pick a favourite bedroom option, the chalet rooms pip most to the post thanks to the gorgeous wraparound balconies, snowy views and capacious bathtubs with views out to the slopes.

Striking an enviable balance between being relaxed, friendly and resolutely luxurious, the hotel bars and restaurants are perfect places to while away evenings. We dine at the excellent Michelin-starred Leonard's for dinner and pre-dinner cocktails at The Bar before heading to Le Petit Chalet, a traditional, rustic chalet set in the grounds of Le Grand Bellevue which seats 18 guests and serves hearty Swiss dishes and oozy fondues.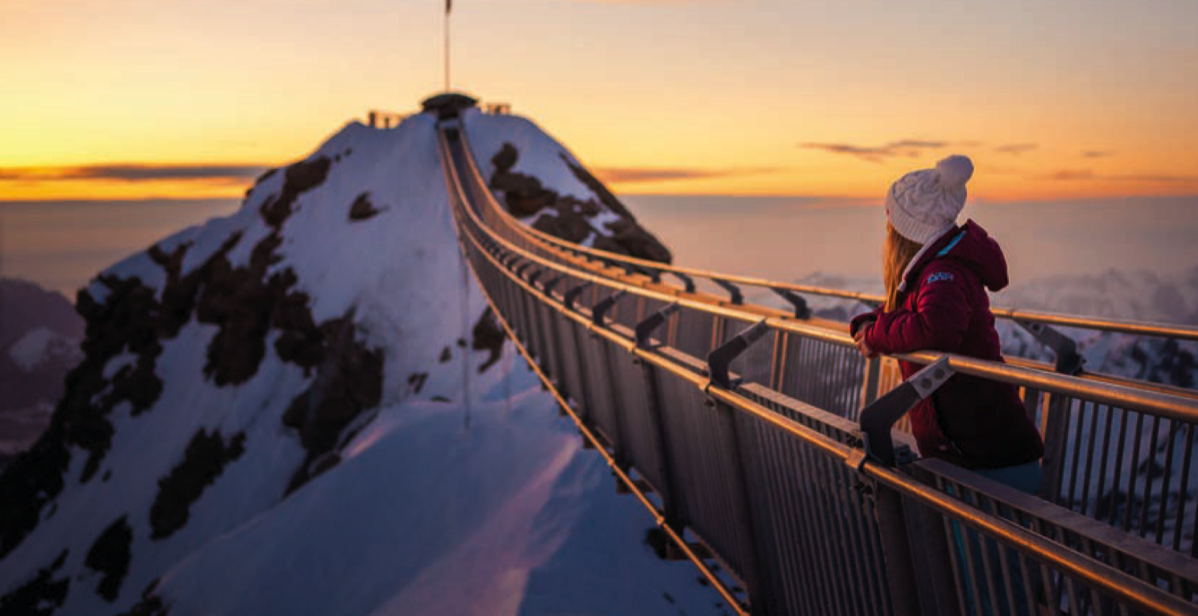 Glacier 3000 Peak Walk suspension bridge - PHOTO COPYRIGHT: MIKE RABENSTEINER
Piste of the action
Set in a valley at the heart of the Bernese Oberland, Gstaad packs in 220km of slopes and though you'll find mostly intermediate and advanced skiers swooshing down with enviable ease, I thoroughly enjoyed my ski school lessons and days out on the smaller runs. Skiing on the Wasserngrat is the most challenging in the area and where visitors will find the infamous Tiger Run, while tobogganing, sleigh rides, snow biking, ice climbing, snowshoe hiking and paragliding also offer fantastic ways to see the valleys.

Snow-capped adventures continue for skiers and non-skiers at the Glacier 3000 at Les Diablerets. A 15-minute drive from the centre of Gstaad, the views on the ascent are extraordinary with the crowning glory the Peak Walk – the first and only suspension bridge to connect two mountain peaks. From the bridge, it is possible to see 24 summits over 4,000 metres, including Mont Blanc, the Matterhorn and the Bernese Alps. There are 25km of pistes for skiers on the glacier and thanks to the elevation they are rarely snow free.

We book a snow bus tour from the summit and head off-road across the billowing fields of virgin snow – this trail can be hiked in around 30 minutes – and stop for lunch at Refuge L'Espace – a tiny chalet restaurant perched on a sheer precipice with jaw-dropping panoramic mountain views. Visitors chill in the sunshine on the small balconies and recline in deck chairs in the snow out front – each vista as breathtaking as the next – before tucking in to plates of hot Tomme cheese of Rougemont with truffled oil and roasted potatoes.

We spend our next two nights at Park Gstaad, a five-star chalet-chic hotel known for its fairy-lit frontage and newly renovated spa. In the grounds of Park Gstaad and in the shadow of the surrounding mountains the hotel has created a little winter wonderland with a small ice rink, cosy fires for marshmallows and hot chocolates and an igloo bar. As night falls, the igloo bar is a hip hang out and has resident DJs.
Park Gstaad hotel and grounds PHOTO COPYRIGHT: PARK GSTAAD
Snow spas
Off the slopes, one of Gstaad's great calling cards is its multitude of five-star spas. Le Grand Spa at Le Grand Bellevue boasts 17 sauna and steam rooms for guests, including an infrared sauna, a Himalayan salt inhalation grotto, a Laconium, Turkish steam bath and herbal sauna. Treatment rooms are decked in pine and soothing sage tones and outside there is a bone-jangling ice plunge, traditional sauna and heated mini spa pool.

Equally heavenly is the Six Senses Spa, located up the hill at the Alpina Gstaad hotel. A new grand dame of the Gstaad luxury hotel clique, the Alpina opened in 2012 and is still very much one of the places to see and be seen. The Alpina's lavish rooms have a money-is-no-object feel with fur throws, rugs, exposed beams and generous balconies and its Six Senses Spa boasts a Himalayan salt grotto, a Turkish bath and magical indoor and outdoor pools. Foodies will revel in the innovative tasting menu at the Michelin-starred Restaurant Sommet, while the Alpina's cutting-edge art collection adds interest around every corner – from work by Tracey Emin to the fascinating art of Roy Nachum who sculpts Braille poetry onto his canvases to create art that can be experienced by all, even those without the gift of sight.
Fairy tales
It's impossible to describe Gstaad without mention of the Gstaad Palace, mainly because its fairy tale towers can be seen from every part of town. The undisputed social centre of the village – they say if you haven't been to the Palace lobby, you haven't really been to Gstaad. And those who have been include the crème de la crème of Gstaad patrons including Elizabeth Taylor, Grace Kelly, Roger Moore, Kofi Annan and Princess Diana. Built more than 100 years ago, this historic hotel still attracts the elite and rubber necking is something of an après ski pastime for us mere mortals. Head for dinner at one of five elegant restaurants, a favourite is cosy La Fromagerie, famed for its Champagne fondue and delicious raclette, and on to the legendary GreenGo club where Bono and many others are rumoured to have joined the band on stage.

Much of what you may have heard about Gstaad is true – it's exclusive, decadent even, and loved by the jetset elite. It's picture-perfect and boasts Michelin-starred restaurants and patrons who wander the village decked in cashmere, fur-lined ski boots and Prada gloves. But at its heart Gstaad is still a village, rich in old world alpine charm. Alongside the glamour, it has a gentle buzz and its plethora of activities will keep all ages and abilities occupied. When you kick your snowshoes off, Gstaad's spas are on hand for more R&R. It's a world on another level, but why settle for normal life on holiday when you can escape to the ultimate winter wonderland and live like kings?