Beyond Kingfisher and Cobra
Kevin Pilley discovers the burgeoning wine of India and asks could Aikya be the next Prosecco? Or the new Cava?
Will we be celebrating Christmas, birthdays and anniversaries by raising a flute of Indian sparkling? And toasting in the New Year with Indian shampoo?

Two Indian businessmen who gave up their corporate careers to study at Oxford University are toasting the Make It India initiative with their own award-winning Soul Tree wines, and the only Indian sparkling wine sold outside India. Nashik-born Melvin D'Souza worked in poultry genetics, while Alok Mathur from Haridwar was employed by TATA Motors.

"We were both searching for an entrepreneurial adventure," says Alok. "Why not Indian wine? Soul Tree wines and Aikya were born, made at the Oakwood winery in Nashik which is the Napa Valley of India."

Wine and wine tourism are growing more and more popular in India. Indian wines are winning awards. The first time I invoked Varuni, the eighteen-armed Indian goddess of wine, was twenty years ago in Goa by opening a bottle of John Bir Blue. After regaining consciousness, I asked the deity to let me breathe. The next time I sampled Indian wine was on the Golden Triangle's Palace on Wheels train. One mouthful made the train shudder, despite being stationary.
Much has changed. India now has wine bars and restaurant sommeliers have begun offering pairing suggestions and consulting tasting notes rather than their insurance cover.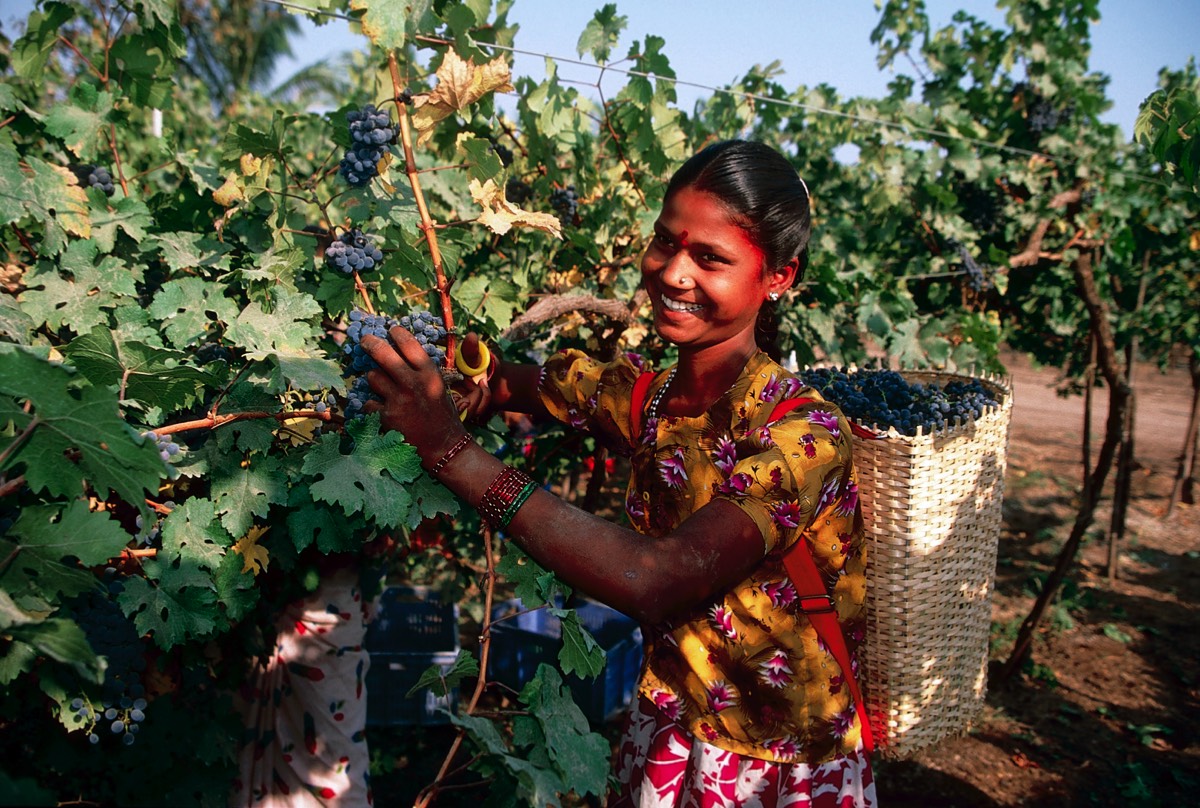 PHOTO COPYRIGHT: STUART ABRAHAM
India now consumes over three million bottles of wine a year. The annual market is worth over £5 million. It's possible to stay in luxury vineyard resorts such as Soma Vine Village, surrounded by the Sahyadri mountain ranges, and the Garwar and Motewadi vineyards near Nashik. Weekend stays range from £75–200 during the harvest.

Once India's largest market place and famous for its 'wadas' (courtyard houses), the Hindu holy city of Nashik, 200 kilometres from Mumbai and Pune, has over thirty mainly 'boutique' wineries. The Deccan Plateau accounts for three-quarters of the country's total wine production.

Approximately ten million litres of wine are produced a year and India grows more grapes than Australia. Most grapes in India are eaten fresh or sold as raisins. Out of a million tonnes of grapes, only 10,000 are made into wine. The UK market is worth £2 million per year and is growing at 50–60 per cent per year.

Maharashtra state's pioneer wine producer is Sula and its picturesque vineyards on the Godavari River in the north-west of the state, a three-hour drive west of Mumbai, are the main stop on the Indian viticulture pilgrimage route. It holds a major wine and arts festival every February where it's possible to stomp your own, listen to bands playing in the vineyard's amphitheatre and have your feet massaged while eating chocolate in the Bourneville Lounge.
Pool at the beautifully-situated Soma Vine Village - Photo copyright: Soma Vineyards
In the tasting-room and on its panoramic balcony, visitors learn from their wine guide that wine-making in India probably goes back over 5,000 years. Temple paintings depict ancient binge drinking and toddy tapping. Early wine made from rice, palm barley and saffron calmed Kashmiri soldiers before combat. Macedonians travelling with Alexander the Great probably propagated vines. The Portuguese introduced port to Goa. During Victorian times, the British established vineyards in the Baramati, Kashmir and Shirat regions.

One of the earliest Indian wines was made by Shaw Wallace, the first importers of cars into India. The company produced a Golconda wine from the Bangalore blue grape. Named after an ancient ruined city in south-central India, the fortified ruby wine (port) is still available.

Sula was founded in 1997 by Stanford University graduate, former Silicon Valley software engineer and self-proclaimed wine evangelist Rajeev Samant. The first grapes from the red, iron-rich soil of Dindori (a 'taluka' or administrative district of Nashik) were crushed in 1999. Sauvignon Blanc and Zinfandel followed. The first Riesling came in 2008. Sula also produces Mosaic, a blend of Grenache and Syrah, a sparkling Brut, as well as a dessert wine.

The Soma Vine Village, a 23-room, ultra-modern, spa-like complex overlooking Gangapur Lake, bills itself as: "The perfect antidote for stressed-out city folk."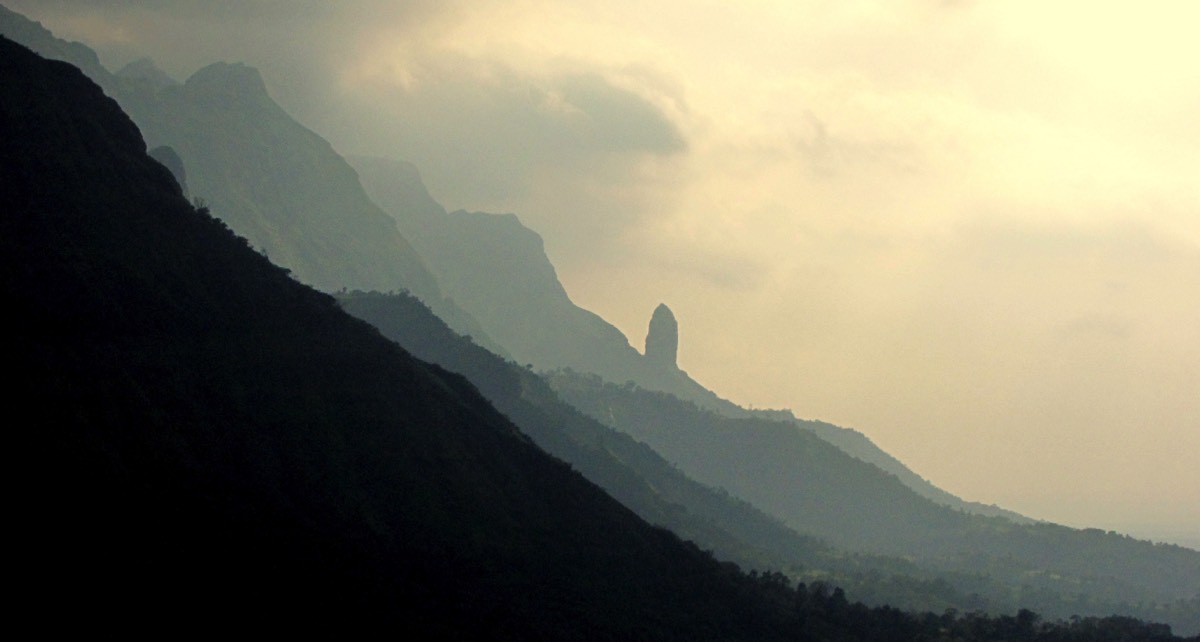 Bhairavgad Hillfort in Sahyadri mountain ranges - Photo copyright: Sameer S | 123RF.com
Yet another cork popped. We nosed. Our Sula host informed: "Our Dindori Reserve Viognier is a wonderful blend of fruit and minerality. The off dry wine has intense aromas of ripe apricot, peaches and white fruit on the nose, complemented with a savoury medium mouth feel of tropical fruit and hints of stony minerality. It goes down exceedingly well with curry."

Another must on the Indian wine trail is Chateau d'Ori vineyard at Nhera-Ori, twenty kilometres from Nashik. As well as a state-of-the-art winery, it has a four-bedroom farmhouse plus jacuzzi and pool which can be rented.

Akluj, about 120 miles south east of Pune in Maharashtra's sugar belt, boasts Fratelli. The Italian word for 'brothers' commemorates the collaboration of Andrea and Alessio Secci, Kapil and Gaurav Sekhri and the Mohite-Patil brothers, Ranjitsinh and Arjunsinh. Starting at £80, weekend and weekday overnight stays and tastings are available with a traditional Maharashtrian bonfire and cultural performance welcome and free use of the pool and ping pong tables. The signature red is Sette. The best white is Vitae. Master Tuscan winemaker Piero Frasi oversees.

Roti has Four Seasons Wines (United Spirits Limited) Baramati winery which is housed in an imitation French château. Director and chief winemaker Abhay Kewadkar, who trained in Champagne, produces wines such as Barrique Reserva Shiraz and Sauvignon. Special packages are available, including harvest time stays (February to March), in which the hosts invite visitors to: "Surrender to gastronomic decadence."

Grover Zampa Vineyards, at the foot of the Nandi Hills near Bangalore, also holds a wine festival and jazz stomp in February.

But, for wine fans, it all starts and ends at Sula. We clinked glasses and said: "Kai Ho!", the Indian for "Cheers!" My tasting session and winespeak tutorial not quite over, I asked my guru what Sula means. I learned it means 'peaceful'. It was exactly how I felt amidst the piquant and robust aromas of West India and vineyards of Maharashtra.

Now that's how I always feel when I am nursing a glass of Soul Tree or a flute of Aikya back home. I have moved beyond Kingfishers and Cobras.
essence info
www.jetairways.com
fly to Delhi and Mumbai and is India's leading domestic airline.
Websites:
www.soultreewine.co.uk
www.sulawines.com
www.fratelliwines.in