Pelé: Art, Life, Football is an exhibition of art inspired by Pelé to celebrate his 75th birthday. The exhibition at the Halcyon Gallery includes work from internationally acclaimed artists, including Andy Warhol, Lorenzo Quinn and Mitch Griffiths.
Arriving in a bespoke number 10 Pelé bus, legendary footballer Pelé unveiled the exhibition of art that celebrates his 75th birthday and a lifetime of sporting and humanitarian achievements. The Brazilian hero revealed the highly anticipated collection alongside internationally acclaimed artists including Lorenzo Quinn, Mitch Griffiths, Pedro Paricio, Santiago Montoya and Ernesto Cánovas.

One of the highlights of the exhibition is Andy Warhol's original painting Pelé (1977) from his 'Athletes' series comprising ten portraits of sporting heroes. The renowned pop artist famously predicted that one day, everyone would be famous for 15 minutes, but it would be Pelé whose fame would last for "15 centuries."

The exhibition displays photography, original paintings, limited edition sculptures and prints. In addition to contemporary artwork, iconic memorabilia from Pelé's incredible career is on view: the world famous Jules Rimet trophy and three World Cup football medals – on loan for the first time ever outside of Brazil.

Says Pelé: "I feel extremely blessed to be working with the Halcyon Gallery which commissioned such an exciting collection to celebrate my birthday and my career. Art has played a big role in my life for many years and it has been a very humbling experience to have so many talented artists creating such beautiful work in my honour.
I believe art can be interpreted in many ways, much like football. Football is art to me and it's a very nice birthday present."

Paul Green, president of Halcyon Gallery, confirmed: "If ever the expression 'the beautiful game' was applicable to one individual it was Pelé. And it is this beauty, this creativity, this human presence that we wanted the exhibition to capture and recreate on canvas, in sculpture and in print. We are confident the public will be able to experience something truly unique."

The exhibition is accompanied by a book which will include essays by Dr. Bernard Vere, lecturer in modern art at Sotheby's Institute of Art, and bestselling biographer Brian Winter. Said Brian: "Pelé is a beacon of simple, non-empirical emotion. Something about the man makes us happy, joyous, whole. We need not be fans of football, or even sport, to feel his magic. More than half of the planet's people weren't even born when Pelé played his final professional match in 1977. Yet, somehow, he makes them smile too. He delights and inspires, even today."
Profile: Pelé
Edson Arantes do Nascimento, or Pelé as he is better known, is considered by many football fans to be the greatest footballer the world has ever seen.

He was the youngest player ever to win a World Cup, a veteran of four World Cups, scorer of 1,283 professional goals (12 of them in World Cup tournament fixtures), a member of those magical Brazilian squads that won soccer's greatest prize in 1958, 1962 and 1970, and 'Athlete of the Century', awarded by the International Olympic Committee in 1999.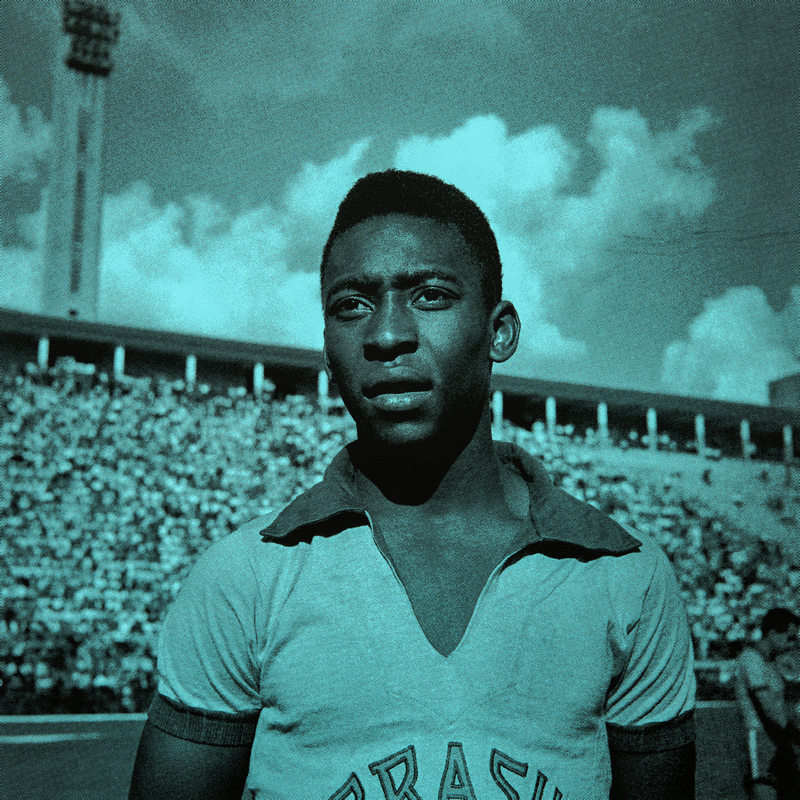 Pelé Brazil by Russell Young


RUSSELL YOUNG
Initially a successful photographer and music video director, British-American Pop artist Russell Young (b. 1959) is now best known for compelling, larger-than-life screen print paintings appropriated from history and popular culture. Alluding to the great Pop artists of past and present, including Andy Warhol, Young collects images from newspaper cuttings, eBay and even police forces and then reworks them to explore issues raised by photography, portraiture and 'the prickly nature of celebrity itself'.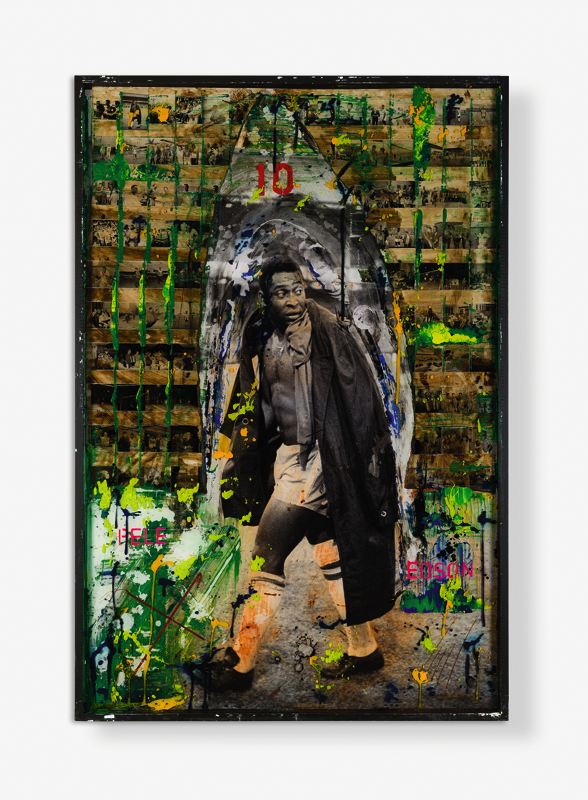 Pelé Raphael Mazzucco


RAPHAEL MAZZUCCO
Canadian Raphael Mazzucco (b. 1965) is both an elite fashion photographer and an expressive contemporary painter, building exhilarating layered narratives through paint, collage and hand-lettered texts. Merging his love of the photograph with the sensuality of painting, he captures human and animal forms set against dramatic backdrops that span the continents.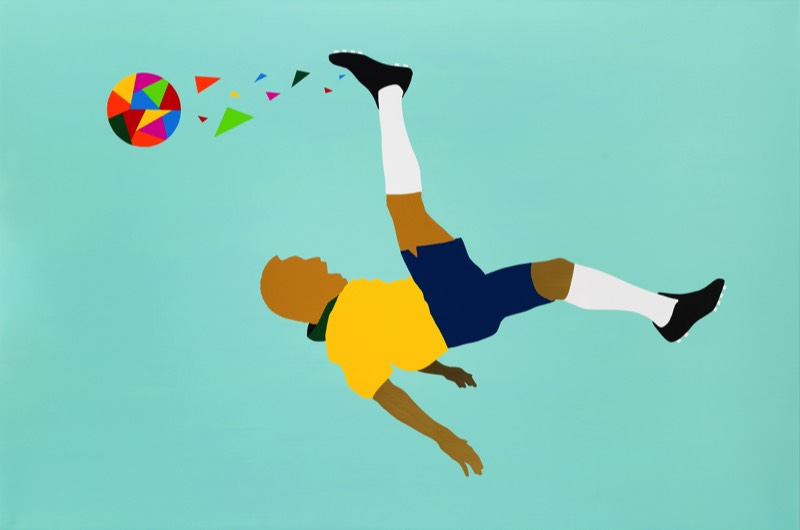 Hermes XXI by Pedro Paricio


PEDRO PARICIO
Fascination with vivid colour and a love of paint itself are hallmarks of contemporary Spanish artist Pedro Paricio (b. 1982). In bright and dynamic canvases he sets out to solve conceptual problems, to incorporate street culture into fine art, to pay homage to great artistic figures of the past and to examine and question the role of the artist. He has an all-embracing view of painting which crosses the boundaries between abstract and figurative, object and narrative, addressing subjects ranging from contemporary science to Hispanic folklore and from music to philosophy.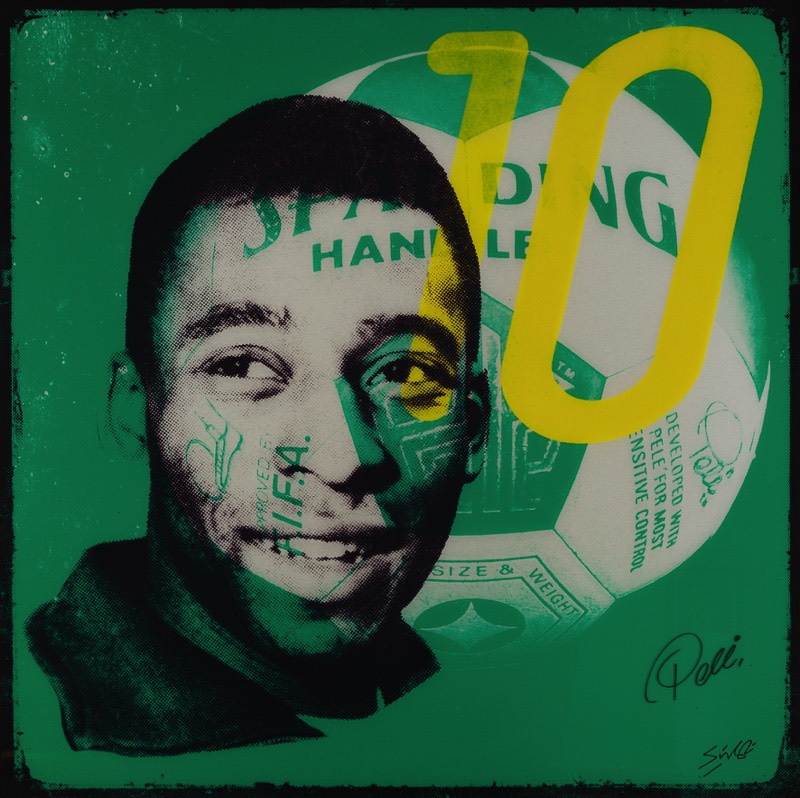 Famous for 15 Centuries Pelé green by Louis Sidoli


LOUIS SIDOLI
Anglo-Italian artist Louis Sidoli (b. 1968) creates retro portraits in the Pop Art tradition of Andy Warhol, mirroring the aspirations of consumer society. Sourcing old photographs and graphic elements, he silkscreens and digitally applies them to a variety of mixed media, including neon, lenticulars, fused glass and aluminium with cast resin.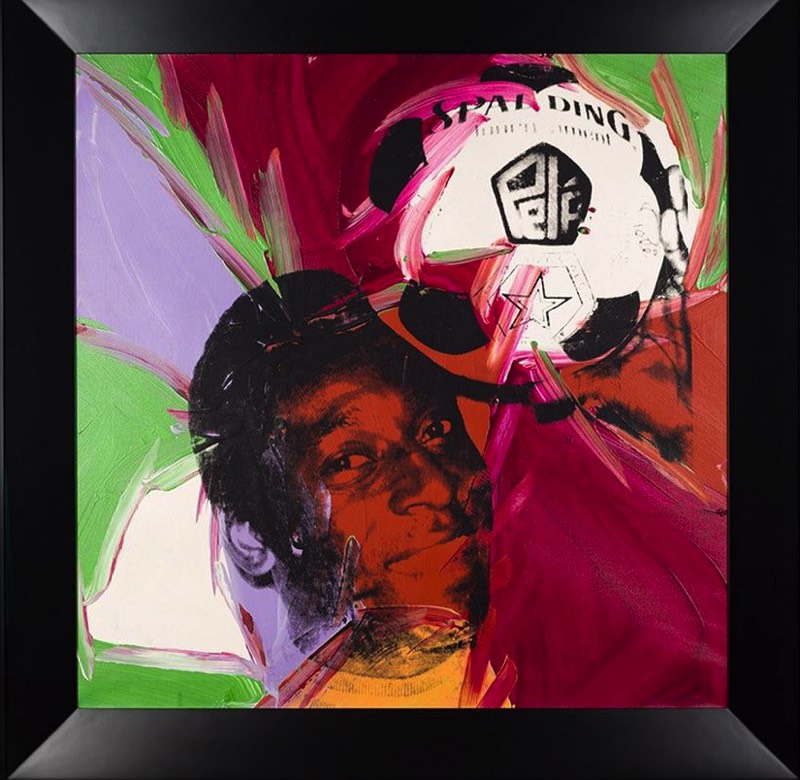 Pelé by Andy Warhol


ANDY WARHOL
American artist and filmmaker Andy Warhol (1928–1987) was an initiator and one of the foremost exponents of Pop Art. Best known for his multiple-image silkscreens of consumer goods and celebrities, he appropriated subjects from popular culture, newspapers and branded products, adopting an inexpressive, pared-down style that challenges notions of what art is.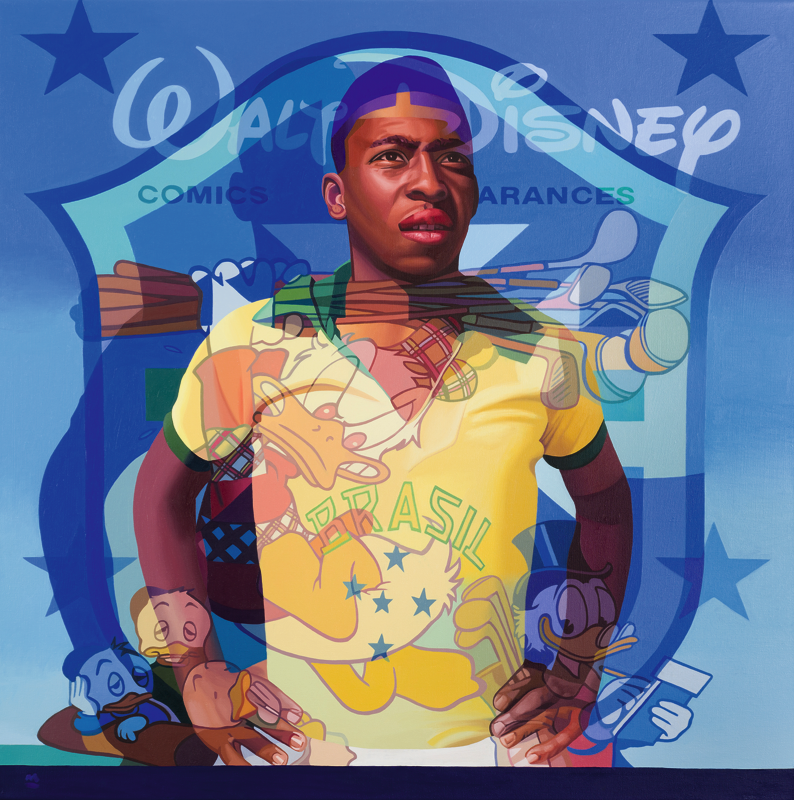 Playing the Field by Stuart McAlpine Miller


STUART McALPINE MILLER
Contemporary Scottish artist Stuart McAlpine Miller (b. 1964) pairs the ultra-modern with the classic in immaculate paintings of supermodels overlaid on cartoon imagery. Alive in an array of pastel shades and irradiated by the illusion of transparency, his works have a precision that suggests computer generation although he paints solely in oils, creating this illusion with subtle tones of varying colour. Like Andy Warhol, McAlpine Miller reflects on mass consumerism and the shallowness of modern existence.
essence info
Exhibition opening times: Monday to Saturday, 10am–6pm, Sunday 11am–5 pm. The exhibition runs until 18 October 2015 with free entry. Halcyon Gallery, 144–146 New Bond Street, London W1S 2PF
Telephone (visitor information):
020 7100 7144
Website:
www.halcyongallery.com