The recent experience of a warm plume of Mediterranean air to the British Isles has made us all think of the spring. Andrew Peters looks at how the garden is now an integral part of any house.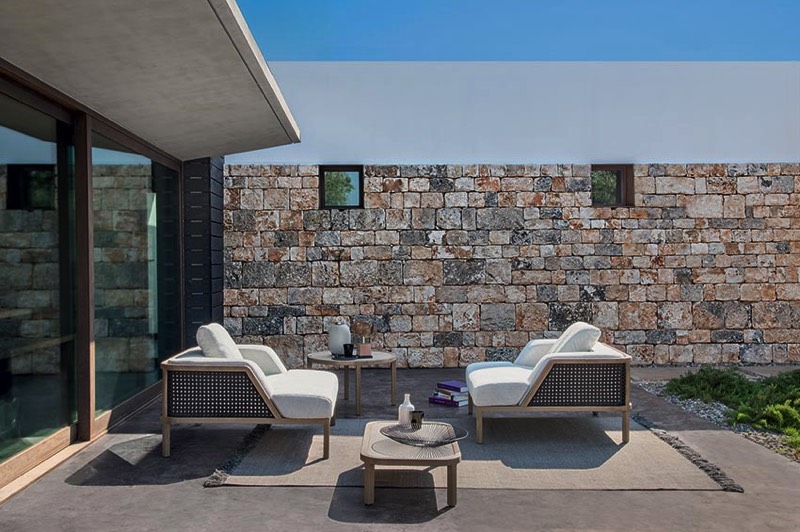 Bringing the outdoors in has become an increasingly popular part of modern architectural thinking and everyday living.

Opening up the rear of a property is an ideal solution to creating a large, continuous space, especially for families or for people who like to entertain.

The majority of today's new construction, rear extensions and conservatories are being designed with the idea of encompassing this inside outside approach where the boundary between the interior and the garden is quite often barely perceptible. Large sections of the rear of properties are having immense bi-fold or sliding panelled doors installed. These often lead directly into wonderfully light-filled glass structures or onto inviting patios and well laid out terraces. These extensions can be a complete break with the style and proportion of the existing house, making better use of natural light and utilising modern materials to achieve a more open plan design.
Vast sheets of glass are the defining element for the majority of these contemporary style areas. Formations of large glass 'boxes' that are clean-lined, unlike the old-fashioned conservatory. The unfussy, climate-controlled rooms of today not only increase our living space, but are sleek, uncomplicated and comfortably weather-proofed. The impression that the two areas are as one, providing the ability to move effortlessly between indoors and out, is paramount to success.

Paving the exterior terrace in the same, or similar, material as the internal floor is very popular and extends the interior beyond the house's end wall. This adds to the unifying elements that lead the eye towards the garden. Where possible, keeping floor levels the same at thresholds means the transition between rooms is seamless, thereby creating a perfectly connecting and spacious environment.
Indian Ocean - Sit back, relax and enjoy
Founded in 1990 with a passion for innovation and a philosophy to offer the ultimate collection of luxury outdoor furniture, Indian Ocean continues to break design boundaries in the use of many different fine materials, including stainless steel, aluminium, rope and, of course, teak, pioneering an environmentally sound future for the industry. Their modern quality surpasses the criteria for furniture destined for outdoors, successfully combining the pleasures of outdoor living with contemporary aesthetics. Several elegant and comfortable heritage pieces from Indian Ocean's teak beginnings remain firmly in the range, which now includes outdoor kitchens and outdoor lighting, electric shades and all the luxuries required for modern outdoor living. Indian Ocean offers advice on furnishing the smallest balcony, country garden or super yacht, together with a complete design and planning service to make the most of any space. Collections are on display at Harrods, third floor, as well as at the two Indian Ocean stores in Balham and Hampstead.

essence info
www.indian-ocean.co.uk
The aims and objectives when planning an inviting outdoor living area should be the same as for the interior. It should never be designed as an after-thought to the interior scheme, but in parallel, with each area reflecting the other. The stronger the visual tie, the greater sense of unification. Seating should be as comfortable and welcoming as main living room seating. A large dining table, with stylish plump cushioned chairs, is great for entertaining when the weather allows.

Canopies now come in a variety of unusual shapes and sizes and patio heaters cater for cooler nights. Because of the elements, if placing furniture outdoors, great care and consideration is required because of the extremes to which it may be exposed. Outdoor furniture has to meet rigorous standards. It has to be durable, tear-proof and resistant to UV rays, chlorine and salt water, lotions, micro-organisms and stains from food or drink. In most cases it has to remain outside all year round requiring minimal maintenance.

Modern materials now make choice almost endless, with a lot of outdoor furniture manufactured from waterproof fibre on aluminium frames. This material is moulded into strips which are then woven onto the frame in innovative designs: open, herringbone, plaited or decorative.

This lightweight furniture is not only visually appealing, but also easier maintain than natural fibres such as wicker or rattan.

Ethimo outdoor decor
Ethimo offers a line of outdoor furniture for a 'Grand Life' in the open air, capable of conveying the tactile and visual sensations that characterise the most elegant indoor situations. Ethimo, in conjunction with Christophe Pillet, has produced a collection that reflects Mediterranean style and Italian design. Grand Life furniture determines the aesthetic value of the space it occupies, rendering it even more relaxing and inviting.

essence info
www.ethimo.com