Stephanie Brookes, BBC Radio London food expert, offers her pick of an eating establishment for this month, Les 110 de Taillevent, Cavendish Square.
The first thing that engaged my attention when a friend mentioned dining at Les 110 de Taillevent was the name: had I eaten there before and why was it so familiar to me? The restaurant itself is already a stalwart in London's food circles, yet it had somehow slipped through my net of restaurant reviews over the years. With an ever-growing list of restaurants to tackle (happily, I must say) sometimes even those well-established names can have you double-checking.
A quick Google search promptly answered my initial question and I realised I was thinking of the original, Paris-based restaurant of the same name. So, the answer was no, I hadn't eaten in this restaurant before, but my interest was reinvigorated. I should also mention that the restaurant name is an indication of what to expect from the menu: 110 is the number of wines offered by the glass. An exciting and impressive proposition to those of us who enjoy a glass of wine, but can never quite finish a full bottle over the course of a meal.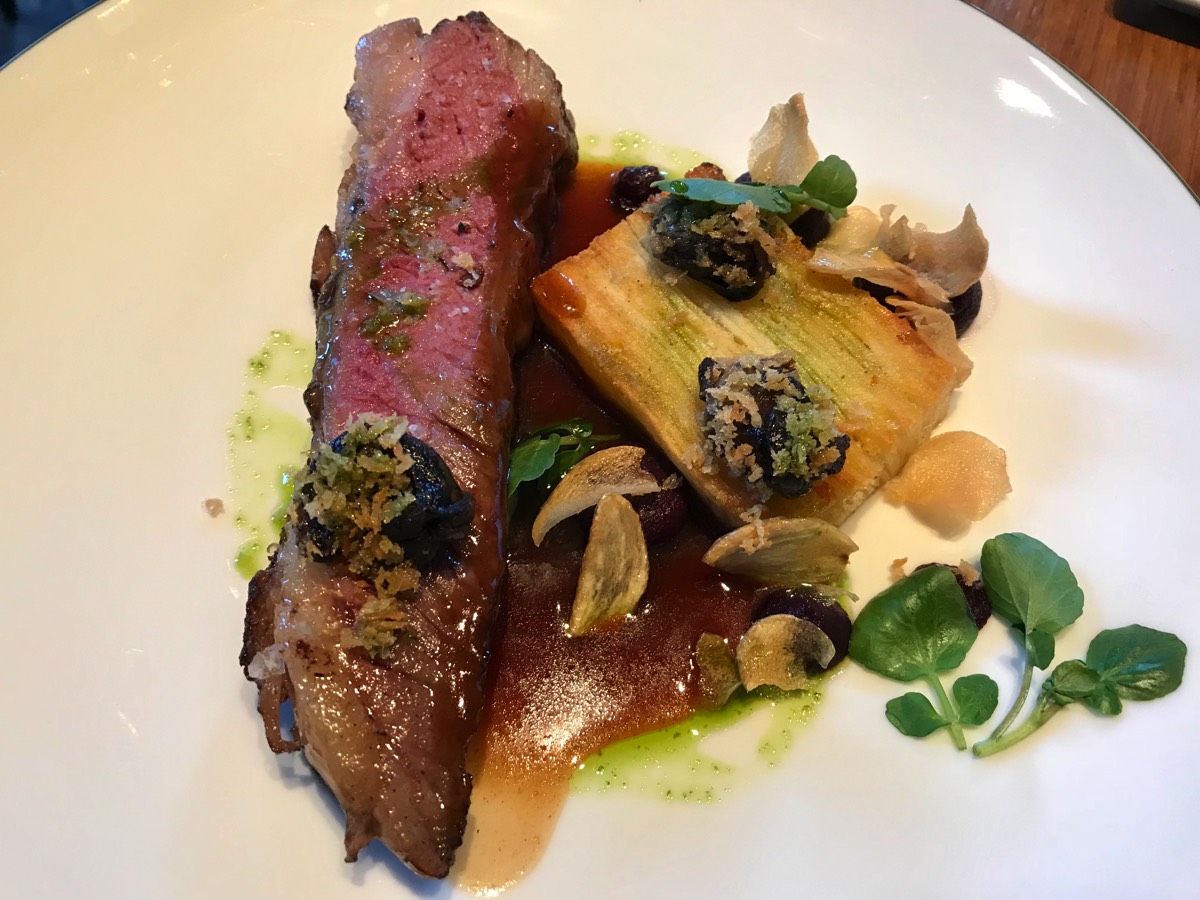 From the moment you step inside Les 110 de Taillevent, the experience is a sleek and understated affair with discreet yet friendly service and an impossibly grand bar area showing off an impressive view of the wine collection, a highlight of the dining room. I perused a well thought out menu of classic and modern French dishes and picked out a delightful sounding first course: Spelt Lobster Risotto with lobster bisque.

A picturesque plate of frothy, burnished orange broth prompted an immediate flurry of photo-taking, much to the surprise of my more restrained fellow diners. For such a delicate looking dish, the broth was a gutsy, flavourful match for the grainy spelt which had absorbed the moreish, umami flavours of the bisque. The soft, yet meaty pieces of fresh lobster on top added texture and sweetness. I learned afterwards that you can also enjoy this particular dish as a main course, and I heartily recommend this highlight of the menu. After the meal, I had the pleasure of meeting head chef Ross Bryans, and after hearing my unwavering appreciation and newfound devotion for his spectacular lobster risotto, I was assured he would keep this particular item on the menu. It's perhaps a negative trait to have an instant favourite, but this was certainly one of the most triumphant risottos I've had the pleasure of eating. Nevertheless, I think a food writer can also reserve the right to have 'second favourites' and this was certainly the case with the following dish: an entrée of Beef Short Rib, Dorset snails with bone marrow crumb.
I find beef rib one of the most indulgent cuts, from the glistening marbling of the meat to the sticky richness which always tastes deeply comforting. The crunch from the buttery-rich bone marrow crumb added a satisfying texture, along with the salty Dorset snails – quite possibly the ultimate carnivore's dream! At this point, you may wonder which of the 110 wines had been suggested to partner with such a worthy opponent. Alas, I uncharacteristically decided not to drink for the first two courses, but gleefully made up for it later with an astoundingly good choice (via the sommelier, of course).

After two decadent courses, the final offering was a sublime White Chocolate Panna Cotta, with coconut, passion fruit and black olive caramel. The panna cotta was immaculately presented in the form of a quenelle which had that silky-smooth texture you expect from a well-made panna cotta, sweetened by the vanilla-rich white chocolate. A generous addition of tangy black olive caramel paired splendidly with the lighter, more exotic flavours of the coconut and passion fruit: a sumptuous medley of flavours which I made incredibly short work of, despite my earlier protestation of "I can't possibly..."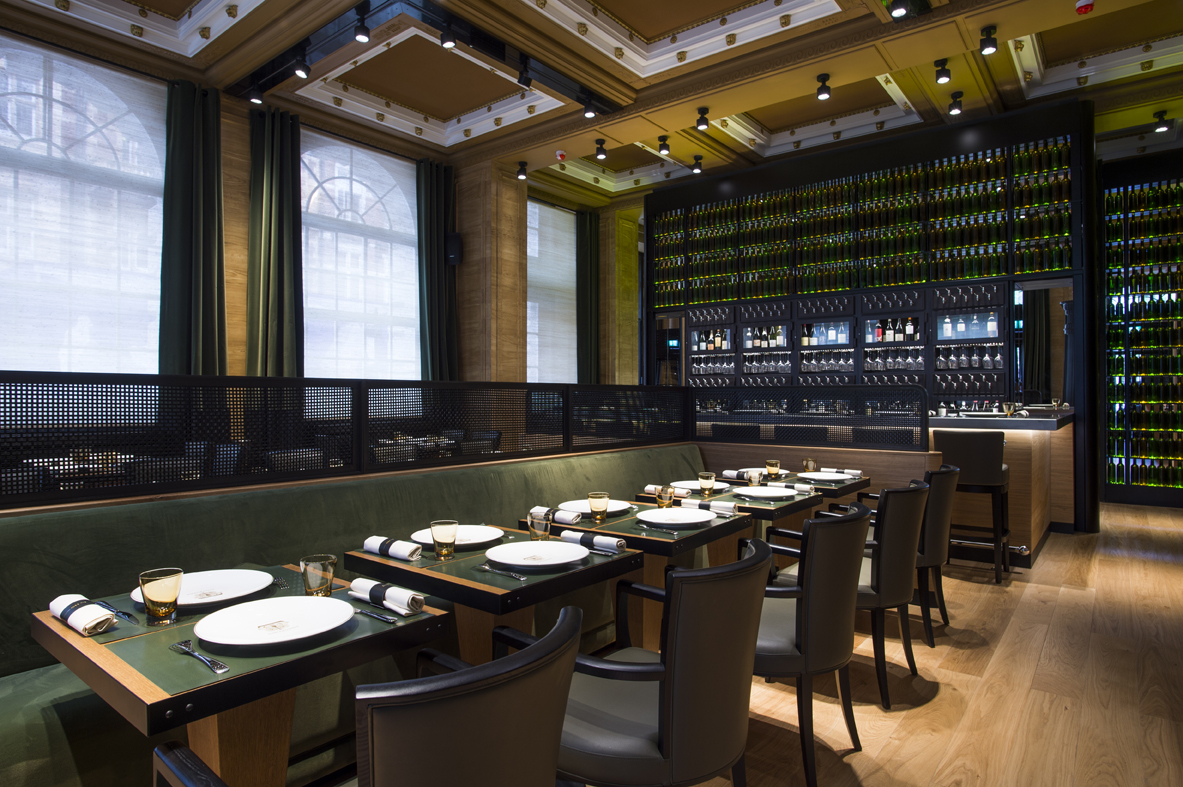 It seemed to me I couldn't end the meal without at least trying something of the alcoholic variety and after mentioning my desire to have something light and fruity, head sommelier, Christopher Lecoufle, recommended the Sydre Brut, Argelette 2015 by Eric Bordelet. A cider of superlative quality, with the requisite citrus tang, yet with delicately muted, sweet notes. It perfectly rounded off an exceptional dining experience which I hope to revisit soon: if only for that risotto…
essence info
Les 110 de Taillevent
16 Cavendish Square, London W1G 9DD
Telephone:
020 3141 6016
Email:
les110.london@taillevent.com
Websites:
www.les-110-taillevent-london.com
;
www.stephaniebrookes.com