Cultural melting pot produces haute cuisine
Kevin Pilley is told to eat, drink and loosen his belt as he takes a trip to the European Capital of Gastronomy Culture 2019, Kraków.
According to one eighteenth century sensualist, the four best things in Poland were: "Vodka in Gdansk, gingerbread in Torun, in Kraków: the ladies, and in Warsaw, shoes."

Torun may have the world's only gingerbread (pierniki) museum and Lublin a pancake museum; vodka may still be drunk widely and wildly in old and new artisanal forms, including pigwowka (quince vodka), and Warsaw might have all the Michelin stars, but Kraków is the 2019 European Capital of Gastronomic Culture.

The former capital beat off Lisbon for the privilege accorded by the European Academy of Gastronomy and will stage culinary events throughout the year, showcasing cookery talents and products to showpiece the revival and reinvention of Polish 'wykwintna kuchnia' – haute cuisine. Indeed, there are now 26 Kraków eateries recommended in the Michelin Guide, most of them located in the main market square, on the banks of the Vistula River and on the streets of the former Jewish city of Kazimierz.

Rest assured the city's annual Soup Festival and Sausage Dog Parade will go ahead as usual.

Once Kraków, which was on the first UNESCO World Heritage List in 1978, hosted large and lavish banquets with specialities like braised bear's claws, smoked bear tongue and bear bacon. Now tastes are being refined again, but democratised. Fine dining is no longer the preserve of the nobility. Poles are being weaned off potato starch soup, cucumber soup, barley soup, double fried lard, goat gruels and cardboard schabowy pork cutlets. Although cabbage is still braised and industrial amounts consumed, a wind of change is blowing through Polish cuisine.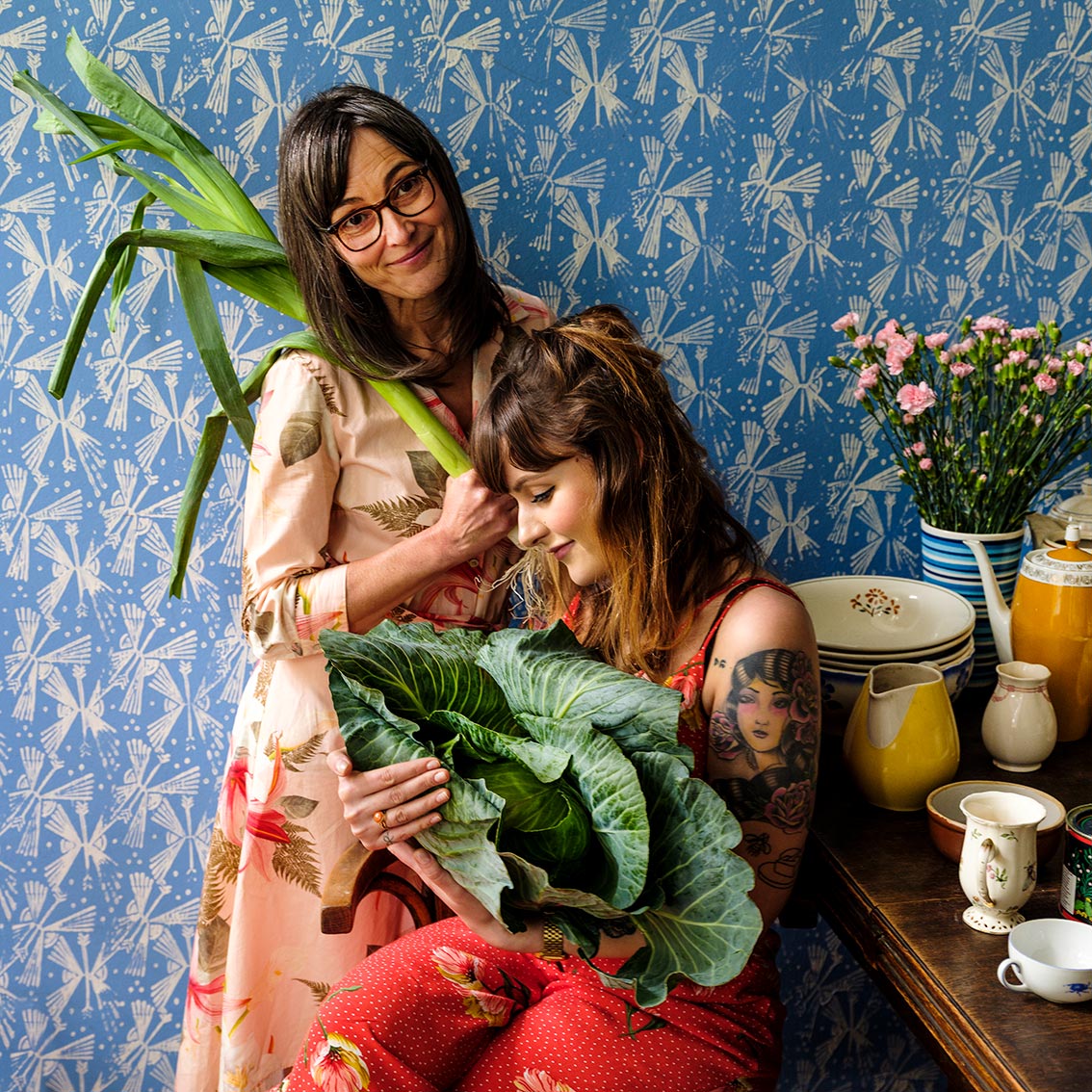 All over Kraków a new generation is Instagramming its goose blood soup and facebooking cabbage heads. Photo copyright: Polish Tourist Board

"The past is back. But the past isn't bad," says Karolina Milczanowska of the gastro portal haveabite.com. "Poles are discovering fine dining and demand is increasing for fine dining options. More people are eating out, palates have become more educated and curious."

Kraków's degustacja (sampling) menus represent the best value for haute cuisine anywhere in the world.

Michelin-recommended Marcin Filipkiewicz, head chef at the Copernicus Hotel in the old town, has cooked for rulers, prelates, artists and actors and is not surprised that Kraków won. His heroes include Alain Ducasse and culinary revolutionists Peter Gilmore and Grant Achatz. Marcin offers a 12-course taster menu ($100) including duck with chicory boiled in red orange and hibiscus. "While appreciating our cooking traditions, I'm trying to get away from stereotypes," adds the author of his country's best-selling fine dining cookery book. "People don't associate Poland with fine dining, that's so wrong. The chef to Prince Alexander, Stanislaw Czerniecki, produced our first cookbook in 1682. We have a rich gastronomic heritage and we are rediscovering it. We are catering for new tastes and new curiosity."

The 29-room boutique Copernicus is the former Polish capital's first Relais & Châteaux property. Ex-president George W. Bush stayed there in 2001, Prince Charles too.

Kraków's oldest hotel, Pod Roza (Under the Roses), the former palace Prospero Provano, has played host to Russian tsars. Chef Milosz Grabowski trained under two Michelin starred chef, Arnaud Bignon. At the Hotel Stary, chef du cuisine Krzysztof Zurek heads the Trzy Rybki (Three Fishes) restaurant where Kolacja (dinner) starts at around $40.

Food tours like Eat Polska are catering to food tourists. Food and travel magazines are becoming popular and historic spaces are now restaurants. In the old Jewish quarter of Kazimierz, visitors can high-end dine in an ex-bus garage Studio Qulinarne.
Relaxing in Kraków - Photo copyright: Polish Tourist Board
With its original leather and silver flake golden cordovans, coffered and ornate ceilings, the seventeenth century Wierzynek Restaurant boasts an 'attribute exceptional atmosphere'. Scene of a 20-day feast thrown in 1364 by King Casimir the Great for other monarchs, the seasonal menu includes dumplings with hare and venison saddle.

Also in Europe's largest market square, the thirteenth century Rynek Glowny, there's Szara Ges (Grey Goose) restaurant with glazed goose leg, goose blood and its signature dessert, a milk chocolate goose egg with a mango mousse yolk! Dziczyzna (game) is now available to all. Around the corner, on the Grodzka royal coronation route, Pod Aniolami (Under the Angels) is in a thirteenth century cellar and former goldsmith's workshop. Its menu tempts with wild boar steak in juniper marinade. Fiorentina is the steak house in town.

Polish cuisine has come a long way from stale bread soup, dry crackers, jellied pork knuckle, CCCP-inspired 100% fat Smalec lard spread, huge slabs of black rye chleb bread, watery broths, limp plastic sausages and indigestible dumplings.

In 2013, Warsaw's Wojceich Modest Amaro became the first Polish chef to be accorded a Michelin star. Traditional dishes like golabki (cabbage rolls), bigos (hunter's stew), pierogi (small ravioli dumplings from Ukraine) and sernik cheesecake are still popular. But now come with Prosecco offers.

Austerity has brought haute cuisine at relatively austere prices. Some of the old egalitarian diners – mlecznys milk bars – are still there and state-subsidised offering two courses for $3. The solem (together) mugs may have gone, but the canteens are 'must try locales' on escorted and self-guided food tours. All over Kraków a new generation is Instagramming its goose blood soup and facebooking cabbage heads.

Polish cuisine's early influences were eastern. From the sixteenth century Asian spices were used. Partitions and assimilation into the Russian, Prussian and Austrian empires have left their marks on tablecloths; queens brought new recipes. French and Indian restaurants appeared in 1990. But the revolution started with hamburgers at the now no more Love Krove (Love A Cow) on Brzozowa. Then came Vietnamese immigrants, Swiss and Italian confectionery returned and 'decadent' pastry shops reappeared.

In 2012 the restaurant scene exploded and Kraków now has international restaurants catering for cosmopolitan and domestic tastes. Damian Suroweic opened Euskadi over the Wisla River in Podgorze, the former Jewish ghetto. He offers prawns from Venice, Basque tapas and a Campari sorbet. He believes food is a cultural force and is targeting locals. "We are trying to build new eating behaviour, quality over quantity. But Polish food is still simple and uncomplicated. Hospitality has always been in our blood," he says.

There are now cookery school and pierogi power workshops and even a bagel (obwarzanek) museum where you can roll and braid (warcocz) your own bagel.

Says curator Maria Krzyzek-Siudah: "The obwarzanek symbolises the city. T'obwarzac means to parboil. This stops yeast from growing and so an obwarzanek can keep its shape and be soft inside and crispy on the outside."

In 1257, Boleslaw the Chaste granted jatkiepiekanski (bagel makers) their own guild. Now 150,000 are made and sold every day in Kraków.

The 1997 Pod Baranem's owner/chef Jan Baran, near Wawel Castle, the seat of Polish kings for 500 years, offers home cooking out. Everything is made in-house, including the herb tinctures inspired by Galician regional cuisine.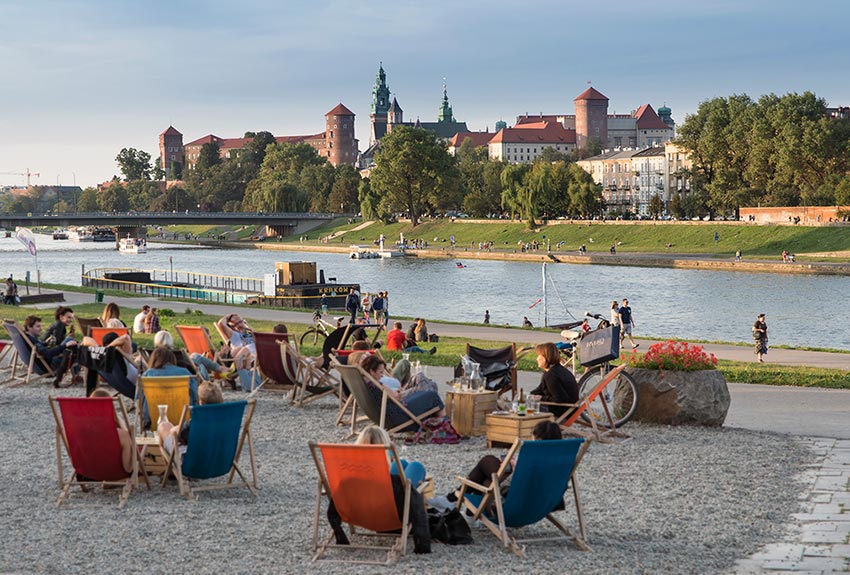 Relaxing in Kraków - Photo copyright: Polish Tourist Board
Says Jan: "Our Sirloin a la Barbican harks back to medieval Poland. The bacon wrap defends the delicacy of the meat. We also have zurek sour rye soup with egg and sausage, as well as spare ribs wrapped in braised cabbage with cep sauce."

At the 800-year-old Stary Kleparz, farmers' market stalls sell dried forest mushrooms, rustic sausages and farmhouse cheeses like oscypek and sledzie (herrings) to accompany Chopin vodka. The young potato Mlody Ziemniak is considered the premium luxury vodka.

Cider is becoming popular since the surplus caused by the export embargo to Ukraine, reflecting that Poland has some of Europe's largest orchards.

A fine wine culture is growing, although domestic wines are dearer than imports. The 28-hectare 2008 Srebrna Góra vineyard under the Camaldolese Hermit Monastery in Bielany is reviving tenth century monastic viticulture. Gora produces 120,000 bottles annually and it makes a Polish Beaujolais to commemorate St Martin, the patron saint of winemakers.

Wine has brought the first Polish sommeliers like Maciej Murzyniec of Karakter offal restaurant in the old Jewish quarter of Kazimierz. He advises on pairings for horsemeat tartare, goose stomachs and bull testicle paté. Don't doubt his proposals. He is an expert in Kendo, having studied in Japan.

Poland is reinventing its rich culinary heritage: at its oldest hotel a Latin inscription reads: Stet domus haec, dones fluctus formica marinos ebibet et totum testudo perambulet orbem – May this house stay here until the ant drinks all of the sea and the turtle ends its route around the world.

Kraków is again a place for gourmands and gastronomes and not just aristocratic or regal ones. The world is coming to Poland to eat well and more Poles are wishing each other Smacznego! – wishing you tastiness. As well as Jedzcie, pijcie i popuszczajcie pasa – eat, drink and loosen your belt.

As Marcin Filipkiewicz sums up: "A mixture of highlander, Jewish or Ukrainian cultures produces a variety of dishes and flavours and offers unlimited possibilities for composition."