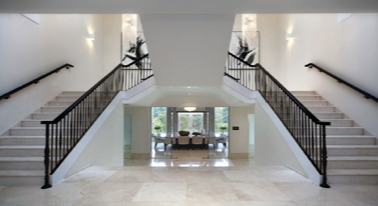 Octagon Bespoke simplifies the process, bringing the future owners in from planning stage to design their dream home, in partnership with the company's expert in-house team of designers and architects.
Almost 40 years of experience in the luxury housing industry have allowed Octagon's Bespoke team to refine their craft and develop an unrivalled position in the market. Meticulous attention to detail and an exemplar service have become synonymous with the brand, attracting buyers to return to Octagon time after time again.
Whether an Arts and Crafts country home, inner-city apartment or Georgian inspired townhouse, Octagon's breadth of experience offers buyers the freedom to design and build their perfect home. Incorporating innovative design, from sweeping staircases to grand leisure suites, each home is entirely unique and built around the owner's individual objectives.
John Pope, Director of Octagon's Bespoke division, comments; "We have seen a huge rise in demand for bespoke homes over the past two years, with a trebling of projects in 2017."
"What makes our bespoke homes truly unique are the journeys buyers experience with us. We usually get involved at a very early stage, sometimes even before the client has bought the plot, and then work closely with them to help realise the vision of their future home – this is one of the most satisfying parts of the process.
Not just dedicated to building new homes, Octagon's specialist team also undertake renovations and extensions to cater for those looking to 'improve, not move'. Whether interested in building extra bedrooms for a growing family or investing in an indoor pool, this option allows buyers to get a taste for Octagon's skillset, without leaving the home or location they love.
Octagon's bespoke service doesn't end once the final brick is laid; a specialist after sales team are in place to make the process of moving in as easy as possible. Armed with a black book of trusted suppliers and local service providers, from dog walkers and cleaners to nurseries and interior designers, the team are known for their exceptional connections and local area knowledge.
Taking on projects from £1m, Octagon's Bespoke service provides a rarely offered, truly personal service in the luxury property market.