The Bahamas: cobalt, azure or cerulean?
Renowned as a maritime playground for sun-starved Americans, this string of subtropical islands has attracted many adventurers over the years. From the grit and bustle of funky Nassau to the vast mangroves of Andros, there's an array of beaches, reefs, forests and historic towns to be discovered in The Bahamas, as Kevin Pilley found out.
His bronzed biceps bulged. The line smoked out from the reel between his thighs. The rod bent. The eyes widened and the teeth glinted through the famous grizzled white beard. He was into another trophy marlin.

Hemingway considered The Bahamas – Spanish for 'shallow waters' – as paradise. Particularly Bimini.

I am not sure what the famous daiquiri drinker and deep sea blue water fisherman would think of it now. He would have probably hooked into a passing paddle boarder: a Hobie Cat is harder to land than a sailfish.

Paradise means different things to different writers and different people, but not HNWIs (High-Net-Worth-Individuals). For them, paradise isn't paradise if it doesn't offer complimentary kayaks, tumbled marble bathrooms, monsoon showers, a private infinity-edge pool, their own powdered sugar beach with exclusive towel drop, dedicated boat slip, a No.1 rated golf course, executive putting green and driving range, coconut painting classes, lobster ravioli, broiled lobster tails, 14oz ribeyes, 'Lazy Parrot' massages and plenty of opportunities to shop for sandals, designer flippers and real estate.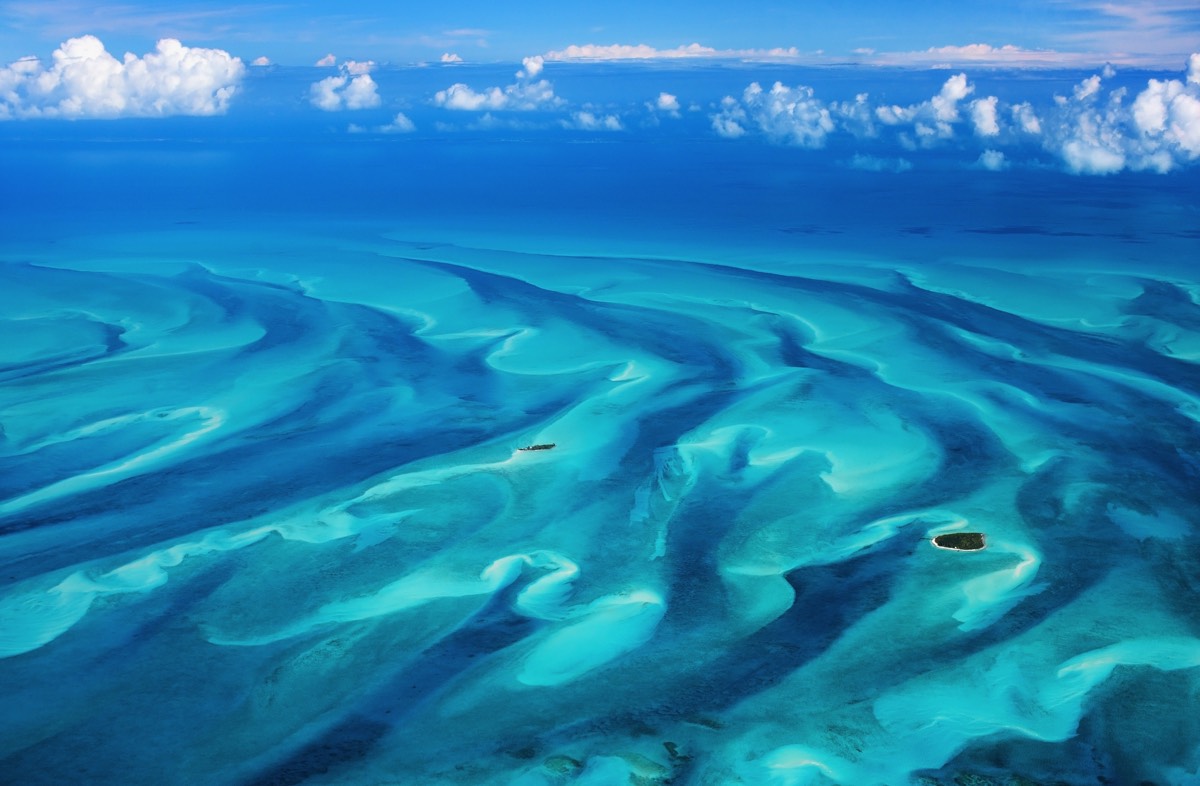 PHOTO COPYRIGHT: SHALAMOV | 123RF.COM
I can't see Hemingway going in for hibiscus sun repair facials and cuticle protection, or booking himself a full back wax, or an oceanside hair braiding session, but people do.

Other fans of The Bahamas, like Al Capone and the pirate Blackbeard, might have felt at home among the bonefish and mangrove fishing charters and casinos and would have enjoyed a 'Gully Wash' or 'Sky Juice' cocktail at Dune's on Cabbage Beach at Nassau's One & Only Ocean Club, Paradise Island (formerly Hog island).

The Versailles nuances, the fountains, statuary, terraced gardens and the twelfth century Augustine cloister shipped in piece by piece from France might have gone over their heads. And a personal scuba instructor may not have been a priority either. A pineapple mango smoothie would certainly be anathema. But they would have appreciated the antihistamines and anti-chigger ethanol candlelit fine dining. But I can't see Blackbeard in a cabana.

The Bahamas have always offered different versions of paradise, if paradise is defined as outrageously luxurious, absurdly decadent and glamorous living. The islands off Florida offer old style luxury in the form of the 1924 Colonial Hilton near the Straw Market, opposite Nassau's cruise terminal, and the Graycliff with its own chocolate factory. It is one grand humidor. It is where Bill Clinton got his Gurkha cigars: visitors can have cigar-rolling lessons from a real torcedor.

Graycliff is situated on the site of buccaneer John Graysmith's 1740 fortress mansion and once Polly Leach's 'Lunches, Teas & Dinners' – Nassau's first inn. It was the home of Lord and Lady Dudley, the third Earl of Staffordshire who hosted the Duke and Duchess of Windsor – the former Edward VIII and Mrs Simpson who thought The Bahamas rather perfect. They called it home. It became a luxury hotel in 1973. There are only twenty rooms, but plenty of herringbone parquet and credenza. Next door is the Governor General's house.

The restaurant makes one feel special. The sea bass is flown in especially from Chile, the sole from Holland and the crab from Alaska. To spoil yourself and get one up on your friends, turn to page seventy of the famous wine list, trail a finger down and order a bottle of the house 1727 Rudesheimer Apostlewein. At $200,000, it is the world's oldest drinkable wine. So, ideal for those who fancy a dessert wine that has some cachet and will go down well with any insecure social peers.

Graycliff has the third largest wine collection in the world. A quarter of a million bottles, conservatively worth $11 million, are kept in the old rock-faced dungeon.
Nassau's famous Straw Market PHOTO COPYRIGHT: DONAVEH
Once a visitor has encountered dolphins in the Blue Lagoon, fed a few stingrays and bought a new swimsuit and some Bahamian handprints from Cole's of Nassau, ticked off the Bond locations and crossed off the off-shore investments and wealth protection options, all that is left to do is decide whether the sea is cobalt, azure or cerulean even, and then just conch out.

The Bahamas proves it's possible to be stalked by a large shell. Everywhere serves conch. Having tried cracked fried, singed, smoked, frittered, goat-peppered or pecan-encrusted conch, visitors fast develop many attributes of the celebrated Caribbean gastropod: they don't move very far, or very quickly. A hammock is the only known antidote to 'Titan's Trumpet'.

The thirty inhabited islands and cays (coral reefs) that comprise The Bahamas offer the chance to find a personal paradise and exclusive, upscale address. Like the new Lumina Point, Turtle Lagoon, on five-mile-long Stocking Island, Great Exuma. The 'off the grid', low footprint, boutique eco-resort is the latest place for models to hang out. Overlooking George Town, it's the ideal location to make that laidback, kickback, moneyed but not posey statement.

The visitor's private launch is met at the pier with a cold towel and a classy beverage. Turtles form a reception committee. The food in The Beacon, overlooking Elizabeth Harbour and Exuma Sound, is excellent. Howard is the gracious host, reminding us to care for starfish because they are prone to sunburn too. An early morning call cannot be booked as there are no phones, but local songbirds will do their best. It's Robinson Crusoe with an AAA Rosette and five stars, and for what it's worth, plenty of compliments on TripAdvisor.

Other islands tempt with their take on paradise. Like the Fernandez Bay Resort on Cat Island, The Grand Isle Resort & Spa, also on Exuma, where visitors can swim with pigs and feed iguanas before returning to the transformative marine skin treatments and three-bathroom villa with gourmet kitchen and granite countertops overlooking the Greg Norman course and ivory crescent of Emerald Bay. Somebody's got to do it.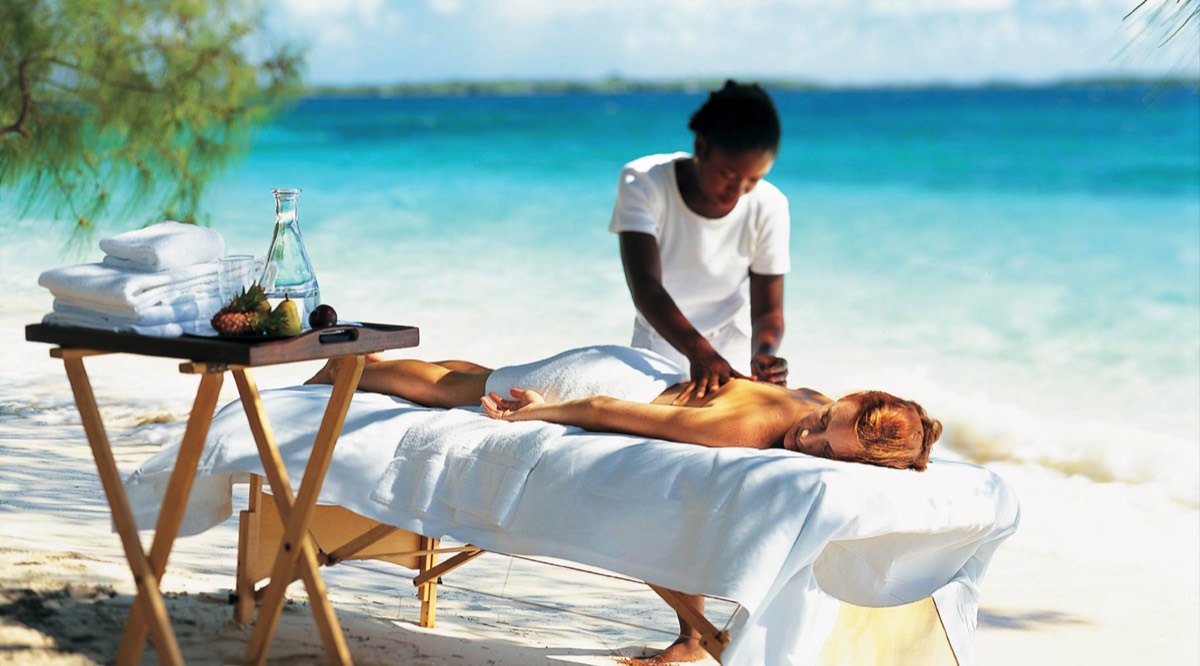 PHOTO COPYRIGHT: THE BAHAMAS TOURIST OFFICE
Abacos has The Abaco Club on Winding Bay. Using the logo of the only ground-nesting parrot, the resort has one-suite cabinas or multi-bedroomed island cottages. Have an 'Abacos Smile' aperitif before a superb dinner in The Cliff House overlooking Salt Cay. Go for stone claw crabs with plantain cakes on the side. Save room for coconut bread and butter pudding and guava crème brûlée.

The Club, combining Bahamian beach chic with the feel of a private estate, reminds the visitor home and reality is a penance: once you have played and snapchatted the extraordinary clifftop golf course (editing out the air shots and lost balls) snorkel yourself into a prune or take the clichéd sun-splashed stroll down the two-mile 'white sand splendour' beach.

The Bahamas offer all kinds of tropical paradise. Each to their own. The flumes and terrifying water rides 'The Abyss' and 'Leap Of Faith' at the Atlantis resort, Paradise island would have tested Ernest's machismo. And Edward Teach (Blackbeard) would have struggled with all the sunrise yoga sessions, but would have loved the golf carts.

And you do wonder if he bumped into Beyoncé and Jay-Z, who would have photobombed whom?
essence info
The Holiday Place, an ABTA and ATOL registered Caribbean specialist, offers multi-centre holidays to The Bahamas and the Caribbean, including flights from London and other UK airports, plus accommodation and transfers from £1,099 per person.
Telephone:
020 7644 1770
Website:
holidayplace.co.uk