As British summer time ends, Kevin Pilley seeks out the Route des Vins d'Alsace, which leads in many forms to the celebration of Christmas.
The Route des Vins d'Alsace, on the far eastern fringe of France on the German border, winds for seventy-five miles across the lower slopes of the Vosges Mountains and through plains extending to the Rhine. It stretches from Marlenheim near Strasbourg through Colmar down to Thann, near the border with the ancient Franche-Comté. Along it travel wine lovers, gourmets and a new breed of cabbage, carp and sauerkraut connoisseurs…as well as Noël tourists.

Sauerkraut Road
Alsace's Sauerkraut Road is younger, but no less fragrant and colourful than the famous Alsatian wine route. It celebrates the fact that the region (so named for being lawless and beyond legal jurisdiction) produces two-thirds of all sauerkraut (charcoute) made in France and that cabbage-shredding is an ancient popular pastime. Alsace produces a fifth of France's white wine and fifty per cent of its beer. The Fried Carp Road was created in 1975 and takes visitors through the Sundgau region with its superb fish restaurants and fishing stretches.

France's wonderful garden
After paying respects to Strasbourg (the cross road) and its Gerberviertel tanners' district, sandstone, high, late Gothic cathedral (Goethe's "sublimely towering, wide-spreading tree of God") with its astronomical clock and the city's other eglises, its 'hotels particulars' (palaces), horse restaurants, ornate medieval Maison Kammerzell, Place Kléber, Prussian military architecture, the three-bridge, four tower medieval Ponts Couverts bridge over the River Ill, the wine route beckons. Especially at Christmas time. When much is to be mulled.

There are seven types of wine available: Sylvaner, Riesling, Gewurtztraminer, Muscat d'Alsace, Tokay Pinot Gris, Pinot Blanc or Klevner and the Pinot Noir rosé. Some have been made for over a thousand years in the area Louis IV called France's "wonderful garden".

Following the wine road by coach or by designated hire car driver takes the visitor through small, relentlessly picturesque villages with cobbled streets, tinkling stone fountains, canals, half-timbered sixteenth and seventeenth century houses with oriel windows and, in spring, window box after window box of trailing geraniums. In most places, storks look down their noses from rooftop nests: they are used to armies passing through this area. Now armies of tourists do not worry them unduly.

Wending your viti-culturist's way through places like Bergheim (famous for its Nativity scene), Ribeauvillé and Kirchheim, the villages get quainter as they get more difficult to pronounce. Niedermorschwihr is a real tongue-twister after a couple of glasses and severe stomach cramp. But the wine road is to be travelled and some of 'les plus beaux villages de France' enjoyed with a green-stemmed goblet in hand and a tall, slope-shouldered AOC flute bottle or Rhin du vin nearby.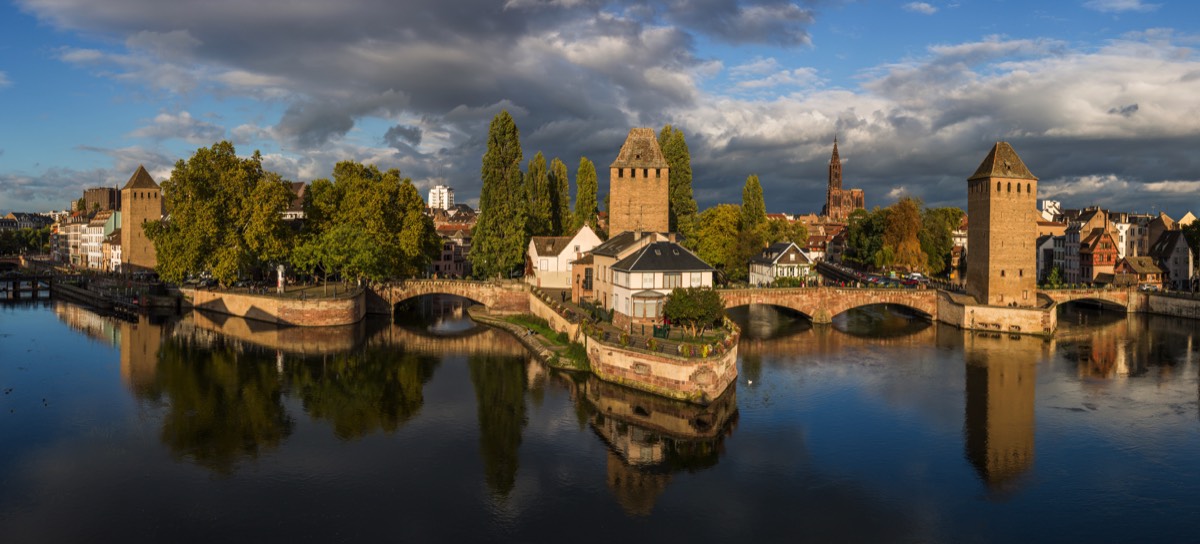 Strasbourg's Ponts Couverts bridge towers and cathedral - PHOTO COPYRIGHT: IURII BURIAK | 123RF.COM
Christmas markets
Colmar is the region's wine capital and Alsace in a nutshell: Renaissance buildings, Gothic architecture, cobbled alleyways and not-quite-kitsch, verging on-the-cute half-timbered buildings. It even has its own Petite Venice (Place des Six-Montagnes-Noires) where market gardeners used to ply their trade on punts. For trivia fanatics, Colmar was the birthplace of F.A. Bartholdi, the man who built the Statue of Liberty in 1866. Colmar also claims to have the lowest rainfall in the whole of France.

Size-wise, it's quite manageable even for the reluctant stroller who will be pleased by the number of characterful 'winstubs' (taverns) and restaurants en route where it's possible to try foie gras (an Alsatian invention), baeckeoffe (a meat and white wine stew), matelote (fish simmered in a wine and onion sauce), onion tart/tarte flambée (a kind of double cream and onion pizza), Munster cheese and kougelhopf, a pastry dessert with the looks, but fortunately not the taste, of a top hat. There is also a toy museum.

Colmar's Christmas market (Christkindlesmarkt or Weihnachtsmärkte) is one of the most definitive of Europe's increasing number of street markets which go back to the late Middle Ages. Dresden's Striezelmarkt dates to 1434, although Bautzen's is older. Frankfurt held its first in 1393. Munich's was 1310.

In Germany, Austria and Switzerland, Advent is often heralded by a 'Christ child market' held in the town square. Traditional foods include Zwetschgen-Männle (figures made of decorated dried plums), Kartoffelpuffer (potato pancakes), Schaumkuss (chocolate covered marshmallows), maroni (roasted chestnuts) and lots of gingerbread men.

As well as plenty of fortifying mulled glühwein or vin du chaud. Most Christmas markets start around St. Catherine's Day (26 November), ending on Epiphany (6 January).
Delicious traditional baked goods on offer in Colmar - PHOTO COPYRIGHT: COLMAR TOURISM
Dortmund and Cologne's markets are the biggest and perhaps the most popular. Vienna's is huge. Strasbourg has staged its Christmas market (Christkindelsmärik) since 1570 when it was part of the Holy Roman Empire. The seat of the European Parliament and capital of the Bas-Rhin department's market boasts Europe's largest Christmas tree (sapin de Noël).

But the markets under Riquewihr's ramparts, in the Place de la Réunion in Mulhouse, Colmar's Place des Dominicains and Place de L'Ancienne and around the Coeur de l'Arsenal in Kaysersberg are more intimate, authentic and less commercialised. They feel more like local community events with their twinkling fairy lights, carousels, wreaths, window displays, illuminated nativity scenes and cribs (Bergheim has a trail of fifty), strolling minstrels, children singing Christmas carols, aproned locals selling local lace and delicacies like bredeles (star anise flavoured twists), pain d'epices loaves, hot fruit juice and brandy elixirs and spiced bierre de Noël.

Rather than an exercise in Noël tourism, Alsace's famed Christmas markets are a celebration of local handicrafts and gastronomy. As well as the festive spirit.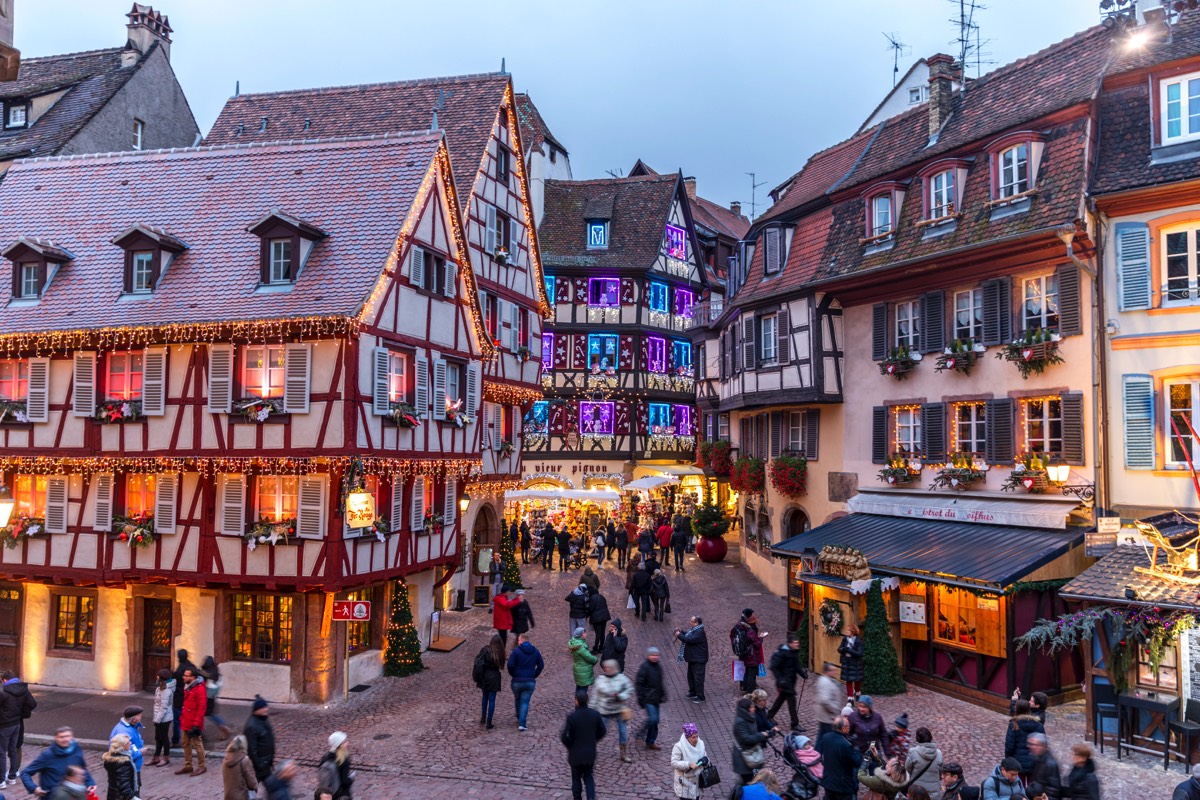 Colmar's Christmas market- PHOTO COPYRIGHT: COLMAR TOURISM
Dreaming of a blue Christmas
Perhaps the most atmospheric is held in Guebwiller in the Haut-Rhin department, 60 miles from Basel. Its annual Christmas market celebrates a 'Blue Christmas'. The town is decorated and lit in blue. Not in celebration of the effect of low winter temperatures, but the turquoise work of local nineteenth century Art Deco faience (tin-glazed artwork on pale earthenware) potter Joseph-Théodore Deck.

North-east France is all very 'gemütlich'. Cosy and homely, especially at this time of year.
essence info
Grape Escapes (
www.grapeescapes.net
) offers Alsace breaks all year round. Its Christmas Markets and Wine break is based at Strasbourg's four star Cour du Corbeau hotel and includes two nights' bed and breakfast accommodation, a private driver/guide to accompany guests on a tour of their preference – they can either opt to visit Colmar (more Christmas markets) and one winery, or go to two wineries.
The package price, based on two people sharing a double room, starts from £525 (GBP) per person for mid-week travel. Supplements apply for weekend travel.
www.easyjet.com
flies to Basel-Mulhouse (Basel is 43 miles from Colmar which is an hour by train and car from Strasbourg).